Thanksgiving breakfast ideas that won't leave you too stuffed for turkey
What to eat on Thanksgiving morning to tide you over 'til the big feast? Here are 10 light breakfast ideas that won't spoil your turkey appetite!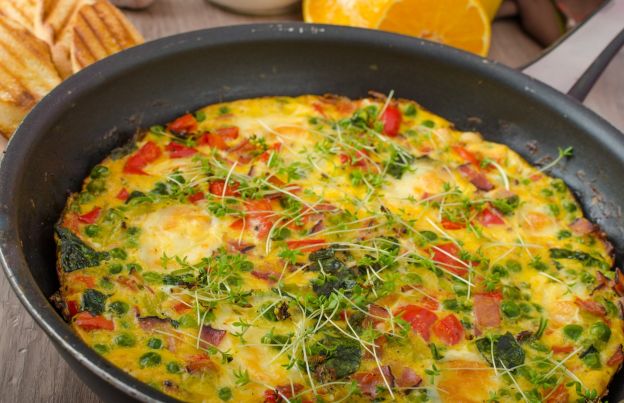 1

/10
View slideshow
Veggie skillet frittata
Avoid hyper-caloric baked goods on Thanksgiving morning, and turn your fork toward this healthy veggie-heavy frittata instead. Meat-lovers will still be satisfied with a hint of chopped bacon or Canadian ham, but the rest is veggie-licious with peas, chopped red bell pepper, fresh spinach and chopped onions. Top with a dusting of grated cheese. You can cook this up in a 10-inch cast-iron skillet, let the eggs set, and broil until the eggs are a bit puffy and the cheese is starting to brown. Garnish with fresh pea shoots.
More steaming articles
Chef Tips and Tricks
VIDEO: Fresh Mango Salad
Dive into summer with this fresh, light and healthy mango salad!
INGREDIENTS
Peanuts
Carrot
Mango
Rocket
2 limes
Olive oil
Soy sauce
Red onion, minced
Salt
Pepper
METHOD
Lightly sautée the peanuts until golden.
Take the carrots and cut into thin slices.
Peel the mango and slice into thin strips.
Squeeze the juice from 2 limes into a bowl, and add olive oil, soy sauce, minced onion, salt and pepper.
In a bowl, toss together the mango, carrot, rocket, and lime-soy dressing.
Enjoy!