15 pulled pork recipes just begging for you to take a bite
Possibly the most delicious way to eat pork, pulled pork also wins for being a super easy, hands-off crock pot dish! Eat it like this...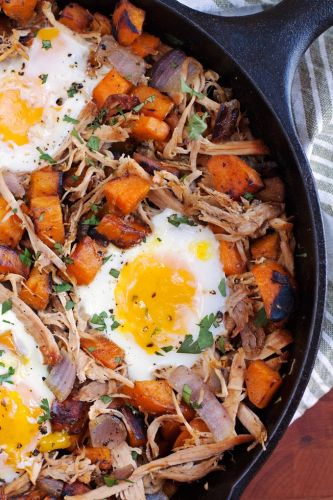 1

/15
View slideshow
© 2 Teaspoons
Pulled pork sweet potato hash with eggs
This sweet potato hash is a most brilliant brunch idea to use up leftover pulled pork. Flavorful crock pot pork, balanced out with red onion, scrumptious sweet potato and golden eggs: what could be yummier?
More steaming articles
Chef Tips and Tricks
VIDEO: Delicious Stuffed Cabbages
These tasty stuffed cabbage rolls are so easy!
Ingredients
1 onion
5 - 6 thick rashers bacon
1/2 lb sausage meat
1/2 cup tomato paste
2 cloves garlic, diced
2 bell peppers, diced
Salt
1 cabbage head

Method
Fry the bacon in a skillet, then add onion, and meat.
Add tomato paste, bell peppers, garlic and salt, and simmer till cooked through
Boil 1 whole cabbage head in salted water till tender
Spoon mixture into individual cabbage leaves, and fold carefully to form little rolls
Serve with any remaining mixture
Enjoy!