30-Minute Soups For Fast Weeknight Dinners
The end of summer doesn't have to mean putting weight back on...cozy up with these 30-minute soups to stay trim and toasty during the week!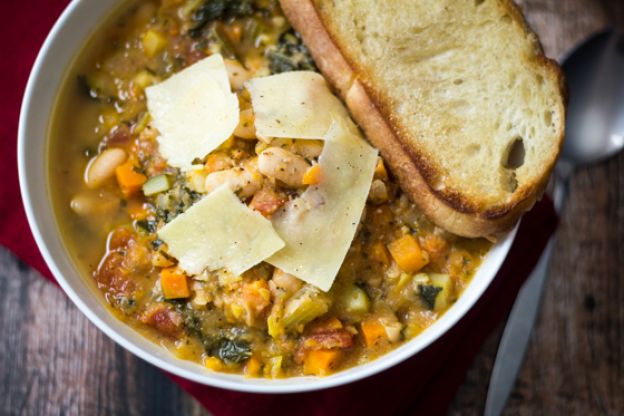 1

/25
View slideshow
© The Wanderlust Kitchen
Tuscan Bean Soup
Making a hearty yet healthy soup can be somewhat of a paradox. How do you make something substantial and comforting without heavy, fattening ingredients? With beans, of course! Beans are a fiber-filled wonder legume that nix the need for meat. This recipe balances fresh veggies with plenty of seasonings for a bowl full of flavor that goes wonderfully with crusty bread or crostini.
More steaming articles
Chef Tips and Tricks
VIDEO: Salted Caramel Thumbprint Cookies
These salted caramel thumbprint cookies are easy to make and super delicious!
INGREDIENTS:
1/4 cup / 50g of softened butter
1 egg (divide the yolk and white)
1/4 cup / 50g of sugar
Pinch of sea salt
1 cup / 150g of flour
1 cup / 100g of chopped nuts
Salted caramel
Melted dark chocolate
METHOD:
In a bowl, mix together the butter, egg yolk, sugar, and salt.

Add the flour and mix. Roll into a ball.

Chill for 30 minutes.

Remove from refrigerator. Divide the dough and roll into 1-inch balls.

Dip each ball in egg yolk, and then roll in chopped nuts.

Place on baking sheet (lined with parchment paper), and press your thumb into the center.

Bake at 340°F/170°C for 12 minutes, or until golden.

Remove from oven and let cool.

Pour the salted caramel into the center groove,and drizzle with dark chocolate.

Enjoy!