Lisa's interview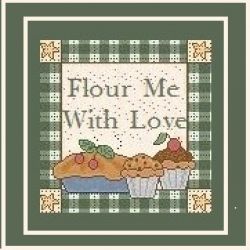 Interview by Gitanjali
We interviewed Lisa!
Visit the blog: Flour Me With Love.
Hello Lisa, so tell us...
When did you begin your blog, and what inspired you to start it?
January 2011; when my littlest one went to kindergarten I had some free time and I love to bake so I decided to start my site to show others what a pleasure it is. I show step-by-step photo tutorials so it's easy to follow along.
What advice would you give to home cooks trying to feed a family of 6?
Well...I have a family of six; four are boys with big appetites! I always do a menu for the week and I base that around whatever sales are on at the grocery store. I buy in bulk and also cook a lot
from scratch
.
What are your culinary influences?
I come from a family who loves to cook. My grandmother raised six kids and she cooked from scratch as well. Even though it's only my gram & pap at home now, she still cooks dinner every night for the two of them.
If you could be a contestant or guest on any cooking show what show would you choose?
I would love to be on Ina Garten's show. She is my favorite person on TV and I love watching her shows.
Do you have a secret ingredient, a product you use a lot that is unexpected or that helps you save time?
I love to use cream cheese a lot! It's a delicious addition in desserts, but also makes mashed potatoes creamy, you can use it in soups, or even make a scrumptious alfredo sauce.
Is there any dish, ingredient or type of food you refuse to cook? Or anything that you refuse to eat?
I will never cook organ meats or even eat them!
What are your goals for your blog? Where would you like to see it in the next year? Five years?
My goal for my blog has been to help others and I feel that I have. Now I'd like to expand on that as well. Within the next year I would like to have a cookbook published and then eventually expand into a line of "Flour Me With Love" products.
My worst food flop was...
One time I put a tray into the oven, went into the living room and forgot about it. I never realized it until I heard the the fire alarm going off the then saw the kitchen full of smoke!
Thank you Lisa for answering our questions and see you soon!
Published by Gitanjali - 09/10/2014

If you are a blogger, a chef, working in the food industry or have a website about food and cooking, and you would like to share with our community, please contact us!
We would be happy to feature you on our site.