7 Secrets To Making The Perfect Stew
Stewed meat dishes are the perfect comfort food—when done right.
---
What's New?
Study suggests that 'sugar coma' is a real thing
And it leads to worse cognitive performance.
Read more...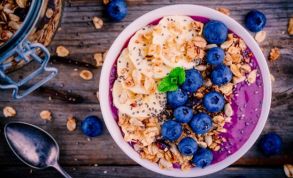 Do You Know How To Say The World's Most Mispronounced Dishes?
From gnocchi to açai, here are the names of the dishes you've probably been butchering.
Read more...
Cooking
Chef Tips and Tricks
VIDEO: Tarte Tatin with Cherry Tomatoes
This French classic gets turned upside-down with tangy, caramelized cherry tomatoes!
INGREDIENTS
Bread, in chunks
Grated Parmesan
1 Egg
Salt and pepper
Italian Seasoning
1 Cup of milk
Sugar
Balsamic vinegar
Cherry Tomatoes
Prosciutto
METHOD
In a bowl, mix together the bread chunks, grated Parmesan, egg, salt, pepper, Italian Seasoning, and cup of milk.
In a pot, combine the sugar and Balsamic vinegar. Bring to a boil until it has reduced (it should be a little thicker).
Slice the cherry tomatoes in half, and place them in a single layer in a baking dish.
Cover the tomatoes with the reduced vinegar and a layer of Prosciutto.
Cover everything in a layer of the bread mixture, and cook at 350°F for 20 minutes.
Remove from oven, flip upside-down... and enjoy!
Enjoy our videos with top techniques, tips and recipes!