---
What's New?
Study suggests that 'sugar coma' is a real thing
And it leads to worse cognitive performance.
Read more...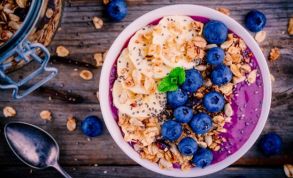 Do You Know How To Say The World's Most Mispronounced Dishes?
From gnocchi to açai, here are the names of the dishes you've probably been butchering.
Read more...
Cooking
Chef Tips and Tricks
VIDEO: Ferrero Rocher Brownies
Are you ready to have your mind blown?
INGREDIENTS
1 Large bar of semisweet chocolate
1/2 Cup of butter
1/2 Cup of sugar
1 Egg
1 Tsp. of vanilla
1 Cup of flour
1/4 Tsp. of salt
1/2 Tsp. of sugar
1/3 Cup of cocoa powder
16 Ferrero Rochers
METHOD
In a bowl, combine the chocolate and butter and heat in oven for 5 minutes at 320° F (or until melted).
Add the sugar, egg, vanilla and mix.
In a separate bowl, combine the flour, salt, 1/2 tsp. of sugar, cocoa powder, and mix.
Sift together the flour mixture with the chocolate mixture.
Line a baking tray with aluminum foil, and pour in the batter. Dot with Ferrero Rochers.
Bake for 20 minutes at 350° F.
Remove from oven... and enjoy!
Enjoy our videos with top techniques, tips and recipes!