30 Quick Mug Recipes to Make Your Life Easier
Sometimes you've got better things to do than slave over a hot stove. Simplify your life with these mug meals made right in the microwave!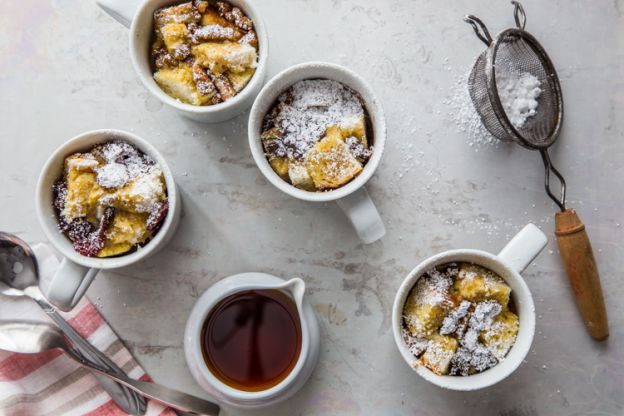 1

/30
View slideshow
© Jelly Toast
French Toast in a Mug
These adorable individual French toast portions start out as mugs full of cubed bread. Tuck your favorite toppings like chocolate chips or nuts in between the pieces, pour over an egg batter flavored with vanilla and cinnamon, and your morning is about to be off to a delicious start. Get the recipe here.
More steaming articles
Chef Tips and Tricks
VIDEO: Salted Caramel Thumbprint Cookies
These salted caramel thumbprint cookies are easy to make and super delicious!
INGREDIENTS:
1/4 cup / 50g of softened butter
1 egg (divide the yolk and white)
1/4 cup / 50g of sugar
Pinch of sea salt
1 cup / 150g of flour
1 cup / 100g of chopped nuts
Salted caramel
Melted dark chocolate
METHOD:
In a bowl, mix together the butter, egg yolk, sugar, and salt.

Add the flour and mix. Roll into a ball.

Chill for 30 minutes.

Remove from refrigerator. Divide the dough and roll into 1-inch balls.

Dip each ball in egg yolk, and then roll in chopped nuts.

Place on baking sheet (lined with parchment paper), and press your thumb into the center.

Bake at 340°F/170°C for 12 minutes, or until golden.

Remove from oven and let cool.

Pour the salted caramel into the center groove,and drizzle with dark chocolate.

Enjoy!