Easy Cauliflower Shrimp Fried Rice
Riced cauliflower is perfect for remaking your favorite classic rice dishes into healthier, lighter, low-carb versions of themselves. Try our easy recipe for cauliflower shrimp fried rice now!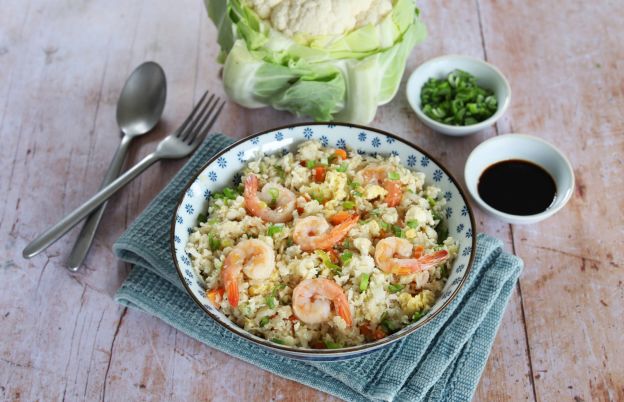 1

/9
View slideshow
© Gourmandize / Silvia Santucci
Easy Cauliflower Shrimp Fried Rice
Fried rice is one of our favorite Asian takeout dishes, but it often comes with a salty, greasy price tag that can leave you feeling bloated for the rest of the day. This lightened-up version swaps in cauliflower rice, which holds up well to stir-fried veggies and sauce.
Ingredients for 4 servings
1/2 large head of cauliflower
3 garlic cloves, peeled and grated
1 cm fresh ginger, peeled and grated
20 oz. (600 g) frozen peeled and deveined cooked shrimp
2 green onions
2 medium carrots

4 tbsp olive oil
1/2 bird's eye chili (optional), deseeded and minced
2 tbsp soy sauce
1 tbsp sweet soy sauce
2/3 cup (150 ml) water
2 eggs, beaten
More steaming articles
Chef Tips and Tricks
VIDEO: Easy Carb-Free Pepper Toast
Ingredients
Pepper
Shrimp (already cooked)
Tzatzíki
Coriander
Method
Slice pepper and place slices in the toaster
Mix Tzatzíki and shrimp
Spread the mix onto the toasted pepper