30 Minutes or Less Weeknight Noodle Dishes
Noodles are one of our favorite foods for quick and easy meals. Here are 30 different recipes to satisfy all your cravings.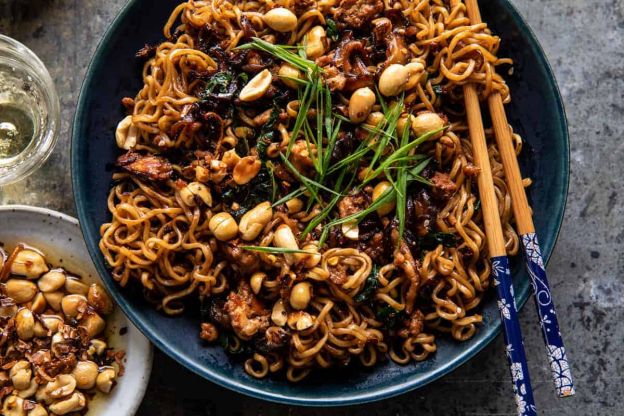 1

/30
View slideshow
© Half Baked Harvest
30-Minute Spicy Sesame Noodles with Ginger Chicken
These spicy sesame noodles with ginger chicken are filled with unexpected pops of flavor from tangy citrus peel, sweet-tart pomegranate juice, plus earthy kale and shiitake mushrooms. A quick homemade chili oil adds just the right amount of heat and makes these noodles addictively good. Get the recipe here.
More steaming articles
Chef Tips and Tricks
VIDEO: Fresh Mango Salad
Dive into summer with this fresh, light and healthy mango salad!
INGREDIENTS
Peanuts
Carrot
Mango
Rocket
2 limes
Olive oil
Soy sauce
Red onion, minced
Salt
Pepper
METHOD
Lightly sautée the peanuts until golden.
Take the carrots and cut into thin slices.
Peel the mango and slice into thin strips.
Squeeze the juice from 2 limes into a bowl, and add olive oil, soy sauce, minced onion, salt and pepper.
In a bowl, toss together the mango, carrot, rocket, and lime-soy dressing.
Enjoy!