20 Easy Sheet-Pan Recipes Perfect for Summer
Why not celebrate summer solstice with these super simple sheet-pan recipes? With tender asparagus and crisp kale, there's a whole heap of veggies to explore this season.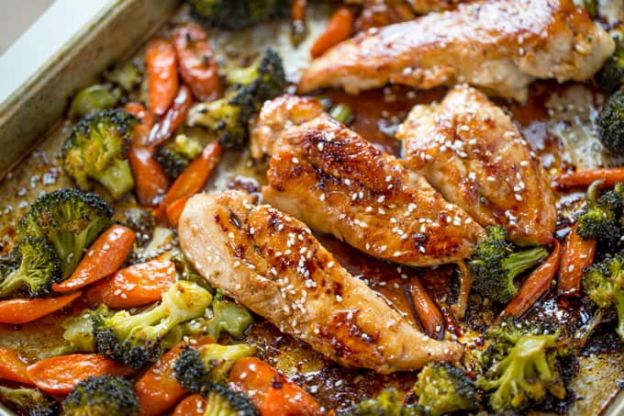 1

/20
View slideshow
© Dinner Then Dessert
Sheet-Pan Korean Chicken and Vegetables
In this recipe, the chicken is juicy and tender and a tasty treat when paired with carrots that caramelize and crisp up in the oven. Top with a soy, garlic and Sriracha sauce, and add a side-dish of broccoli florets as they'll help soak up any excess sauce. There won't be a drop left on your plate!
More steaming articles
Chef Tips and Tricks
VIDEO: Crispy Zucchini Potato Cakes
Combine summer zucchini with leftover mashed potatoes for a delicious, savory treat!
INGREDIENTS
5 Potatoes
1.5 Cup shredded zucchini
3/4 Cup shredded cheese
3/ Cup milk
1/3 Cup coriander, chopped
1/3 Cup basil, chopped
Parmesan, to sprinkle
Salt and pepper, to season
METHOD
Chop the potatoes in half, boil until very tender and drain.
In a bowl, combine the potatoes and zucchini. Add the grated cheese, milk, coriander, basil, salt and pepper, and mix thoroughly.
On a baking tray, spoon out the zucchini-potato mixture and form into balls.
Sprinkle with Parmesan and grated cheese, and bake at 350°F for 15 minutes.
When golden, remove from oven... and enjoy!