BILTONG: It's the South African answer to beef jerky and it's incredible. Here's how to make your own
De rigueur with any rugby match in South Africa is a big bowl of biltong and a beer. The nation's favorite snack is also served alongside crisps and peanuts as a pre-braai (barbecue) snack. Some like it very dry and spicy, others prefer it chewy with a bit of pink in the centre. Make it yourself and you'll see what all the fuss is about!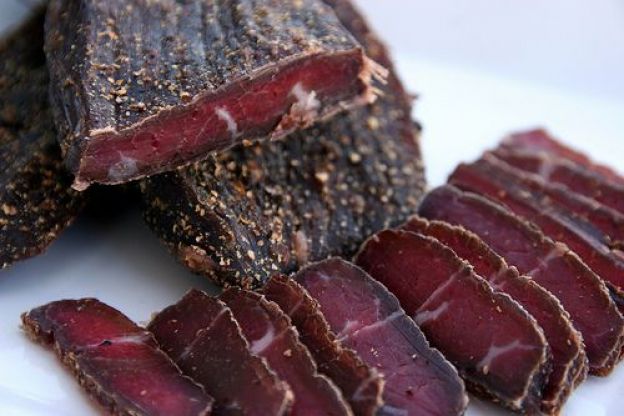 1

/1
Next
Follow our step-by-step guide to make this tasty treat at home. You'll be hooked!
You'll need:
6 ounces sirloin or rump meat (silverside or topside)
1/2 pound coarse salt or rock salt (not table salt as this can make the meat too salty)
1/2 cup brown sugar
1 tablespoon bicarbonate of soda
1/2 cup dried coriander seeds, ground
1/2 cup red wine vinegar
1/2 tablespoon freshly ground black pepper
1 tablespoon paprika
When choosing your meat, look for cuts that do not have too much fat in the meat as this can cause mold to develop more easily. An outer strip of fat, however, should not be a problem and many enjoy their biltong like this.
Ensure that all your work surfaces and utensils are well sterilized before starting. Use a very sharp knife to slice sections of meat approximately 9 inches long and 1/2 inch to 1 inch thick, cutting with the grain.
Rub the other dry ingredients, along with some vinegar, into the meat. Place the meat in a glass container, layering it with vinegar and spices so that it has been coated on all surfaces. Take off any excess salt so that your biltong is not too salty. Cover with a lid or clingfilm and leave to stand in the refrigerator for 4 to 24 hours.
You can try adding a little chili too and vary the spices, quantities or type of vinegar used each time you make a batch. Many recipes don't use sugar and some methods recommend rinsing the meat after marinating and then rubbing a second time with spices as this can make the meat less salty.
After marinating, the meat is ready to be dried. There are various ways to do this, bearing in mind that the drying environment must never be humid in order to prevent mold forming. You can hang up your meat in a cool place using plastic hooks — or even plastic paper clips in an 'S' shape — and have a fan blow on it. Don't use metal hooks as this will leave a strange taste in the meat.
Another method is to use a bought or home-made 'biltong box'. This is basically a sealed wooden box (or use cardboard if you like) with holes in it and a 60w light bulb inside. You simply hang the meat at the top of the box, and leave the light bulb on at the bottom. In 3-4 days, the heat from the light will dry the meat (even in humid weather). It's important that the box is closed on all 6 sides except for a few holes so that air can circulate in the box.
After a few days, you can slice off some thin strips to test whether the biltong is dry enough for your liking. The longer it's left, the dryer it will become.
Have fun, experiment and enjoy the tasty results!
More steaming articles