Quick & Easy Sheet Pan Dinners for Lazy Weeknights
Dinner is a breeze thanks to these sheet pan recipes.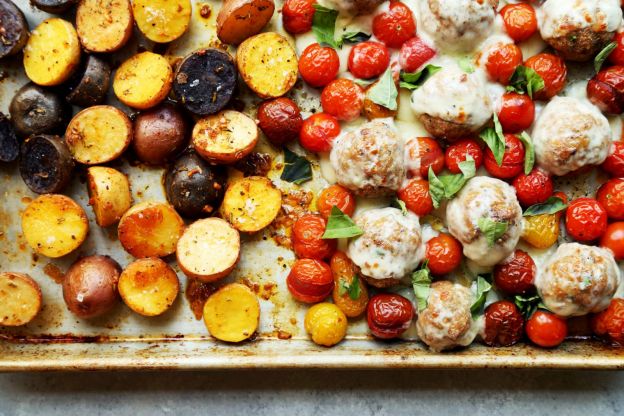 1

/35
View slideshow
© The Candid Appetite
Sheet Pan Turkey Caprese Meatballs
Meatballs aren't just for spaghetti! In this recipe, herbed turkey meatballs are cooked with tomatoes and potatoes, then topped with gooey mozzarella cheese. Whip this dish up for a dinner that's tasty and totally easy.
More steaming articles
Chef Tips and Tricks
VIDEO: Chicken Quesadillas
These quick and easy chicken quesadillas are the perfect, last-minute family dinner!
INGREDIENTS:
2 chicken breasts
1/2 cup of tomato sauce
1/2 cup of chives, chopped
1 tsp. of Mexican spice mix
4 Tortillas
Cheddar
Salt, to taste
METHOD:
Put shredded chicken breast, tomato sauce, chives, and mexican spice mix in a bowl and mix together.
Lay out the tortillas. Place a slice of cheddar in the center, and cover with the chicken mix.
Fold up tortillas, and heat in a frying pan until golden.
Enjoy!