Do you like sushi? We've got news for you: you've been eating it wrong this whole time!
We give you the guide that every sushi lover should know.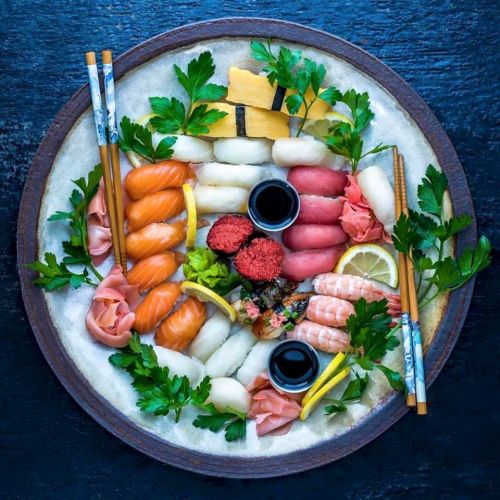 1

/4
View slideshow
Introduction
You probably call yourself a sushi fan like the majority of us do. This Japanese specialty is easy to love, with its subtle mix of flavors and light consistency. Though Japanese food has gained popularity worldwide and you can now find sushi restaurants in practically any city, the truth is that nobody really explained to anyone how to eat it in the right way.
Want to know the truth? You've probably been eating it completely wrong this entire time. But don't worry: we'll tell you the right way to eat it so you can become a total sushi expert!
More steaming articles
Chef Tips and Tricks
VIDEO: Tropical Salmon Sushi Cups
These fun Tropical Salmon Sushi Cups make the perfect warm-weather appetizer!
Ingredients
1/2 cup rice vinegar
2 tbsp sugar
2 cups cooked sushi rice
1 cup soy sauce
1/4 cup chopped cilantro
2 tbsp seasame oil
1 tsp chili paste
Salt
1 mango, diced
1 avocado, diced
1 lb salmon, diced
Method
Combine the rice vinegar and sugar.
Stir though the cooked sushi rice, and with wet hands, shape into balls.
Press the balls into ramekins lined with parchment paper, and press the rice up the sides of the ramekins into cup shapes.
Refrigerate for 15 minutes.
In the meantime, combine the soy sauce, cilantro, sesame oil, chili paste and salt in a bowl.
Combine the mango, avocado and salmon.
Pour the soy mixture over the salmon mixture, and stir through until evenly coated.
Remove the rice cups from the refrigerator, and peel off the parchment paper.
Distribute the salmon mixture between the rice cups.
Garnish, serve and enjoy!