Easy Gourmet Sides to Serve with Easter Lamb
Now that you've decided on eating lamb instead of ham this Easter, what should you serve with it? Check out these 10 beautiful side dishes to serve with lamb.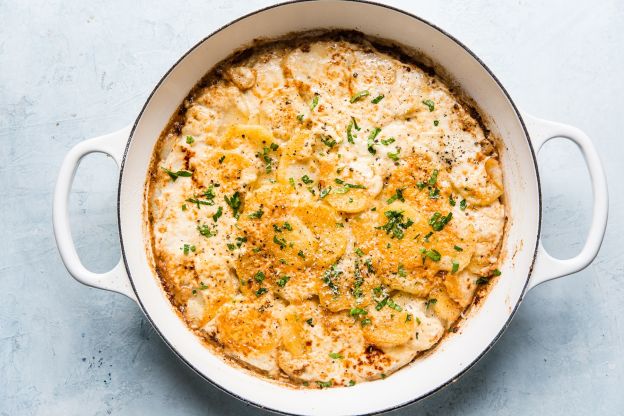 1

/10
View slideshow
© The Modern Proper
Potato Au Gratin
Everyone loves a creamy, cheesy potato gratin—especially when it's made from scratch. A mandolin will significantly speed up the preparation, and then all you have to do is layer the potatoes in the baking dish with seasonings and cheese, pour over the cream sauce and bake to bubbly, golden perfection. Get the recipe here.
More steaming articles
Chef Tips and Tricks
VIDEO: Smashed "Jackson Pollock" Potatoes
Let your artistic side out with these easy Pollock-inspired smashed potatoes!
Method
Boil the desired amount of small potatoes until tender.
Spread on a lined baking tray, flatten slightly using a cup or jar. Don't over-flatten them!
Sprinkle liberally with shredded cheese and Parmesan.
Top with bacon slices approximately the same size as the potatoes.
Drizzle liberally with balsamic vinegar.
Place in oven, under the grill for 15 min at 375°F until the cheese is melted and the bacon is crispy.
Enjoy!