Famous Spanish Tapas Perfect for Entertaining
Tapas are bite-sized appetizers served during cocktail hour in Spain. They generally come in small portions and in varied forms. Discover these 10 authentic tapas that will bring Spain to you on a plate.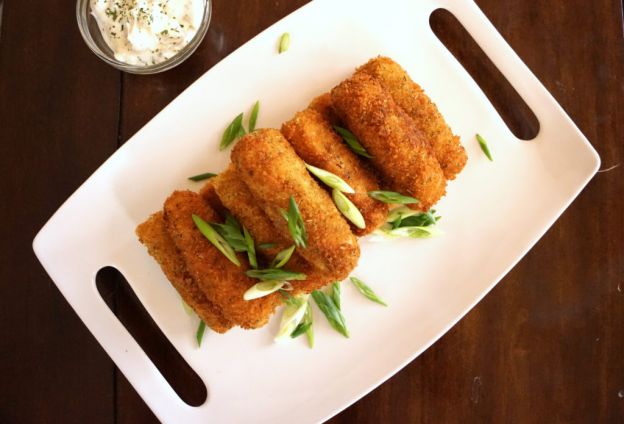 1

/10
View slideshow
© The Mastiff's Kitchen
Croquetas De Jamon: Ham Croquettes
Spanish croquettes can come filled with all kinds of deliciousness, but one of the most common varieties you'd find in Spain's countless tapas bars is the one with jamon serrano. It's got diced ham swimming in a rich bechamel sauce, and both get fried to crispy golden perfection together. What are you waiting for...? Get the recipe here.
More steaming articles
Chef Tips and Tricks
VIDEO: Spanish Empanadas
These Spanish empanadas are little hot pockets of delicious!
INGREDIENTS
2.25 Cups of flour
1 Egg, beaten
3 Tsp. of lard
1/5 Cup of warm water
5 Tsp. of olive oil
1 Onion, minced
1/2 pound of ground beef
Salt and pepper, to season
1 Tsp. of chili powder
1 Tsp. of cumin
2 Garlic cloves, diced
1 Can of diced tomatoes
METHOD
In a bowl, combine the flour, beaten egg, lard, warm water, and olive oil, and mix thoroughly.
In a hot pan, pour a little olive oil and sautée the onions, until tender. Add the ground beef, salt, pepper, chili powder, cumin, garlic and diced tomatoes. Cook until beef is no longer pink, and the flavors have incorporated well.
Roll out the empanada dough, and cut out circles with a ramekin.
Cover a baking tray with a piece of parchment paper, and place the dough circles on top.
Fill with meat mixture, fold in half and press with the edge of a fork. Brush with egg yolk to glaze.
Cook at 350°F for 15 to 20 minutes, or until golden.
Remove from oven... and enjoy!