19 Creative Twists on the Classic Caesar Salad
Caesar salad is a classic American dish loved all across the country. Take yours up a notch with these 19 clever hacks!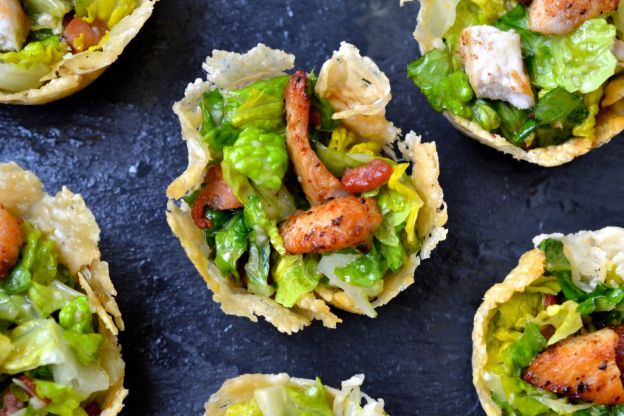 1

/19
View slideshow
© Every Last Bite
Spoon it into Crispy Parmesan Cups
This genius recipe turns Caesar salad into an adorable, bite-sized party snack by spooning it into crispy parmesan cups. The cups are made by melting parmesan into flat rounds in the oven, then pressing them into a muffin tin while they're warm and pliable—so creative!
More steaming articles
Chef Tips and Tricks
VIDEO: Baked French Croque Monsieurs
Enjoy these super easy, cheesy, dumpling-style croque monsieurs!
Ingredients
4 slices of bread
4 slices of ham
6 cherry tomatoes
Mozzarella cheese
Flour
Egg yolk
Breadcrumbs
Method
Preheat the oven to 350°F.
On a large piece of plastic wrap, press one slice of bread flat with a rolling pin.
Add one slice of ham, cherry tomatoes, and mozzarella cheese.
Take the four corners of the bread, pull them in towards the center, pinch them together so that the bread maintains the shape.
Envelope the bread in the plastic wrap. Gather and twist the ends on top to seal the sandwich dumpling.
Repeat this step with the other slices of bread.
Refrigerate.
Remove the bread balls from the fridge and roll each one in flour, then egg yolk, then breadcrumbs.
Bake for 15 minutes.
Serve alone or with dipping sauces of your choice.