Jazz Up Your Lunch Break with These Hot Sandwich Recipes
The humble sandwich finally takes its place in the sun thanks to these sammies.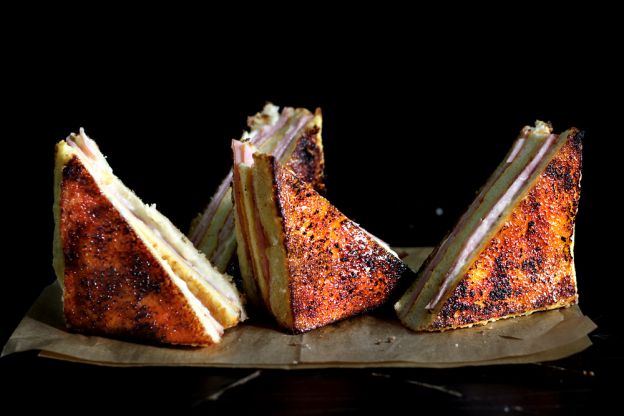 1

/40
View slideshow
© Lady and Pups
Creme Brulee Monte Cristo Sandwich
This inspired take on a Monte Cristo sandwich will make your jaw drop open—to take another bite as quickly as possible! While traditional Monte Cristos are pan-toasted like grilled cheese, this one gets a wash of egg, butter, and sugar before going under the broiler. The result is a creme brulee-like crust and an incredibly delicious sandwich. Get the recipe here.
More steaming articles
Chef Tips and Tricks
VIDEO: Baked French Croque Monsieurs
Enjoy these super easy, cheesy, dumpling-style croque monsieurs!
Ingredients
4 slices of bread
4 slices of ham
6 cherry tomatoes
Mozzarella cheese
Flour
Egg yolk
Breadcrumbs
Method
Preheat the oven to 350°F.
On a large piece of plastic wrap, press one slice of bread flat with a rolling pin.
Add one slice of ham, cherry tomatoes, and mozzarella cheese.
Take the four corners of the bread, pull them in towards the center, pinch them together so that the bread maintains the shape.
Envelope the bread in the plastic wrap. Gather and twist the ends on top to seal the sandwich dumpling.
Repeat this step with the other slices of bread.
Refrigerate.
Remove the bread balls from the fridge and roll each one in flour, then egg yolk, then breadcrumbs.
Bake for 15 minutes.
Serve alone or with dipping sauces of your choice.