Comforting Lasagna Recipes with a Twist
If you hear 'lasagna' and immediately think 'bolognese', these mouthwatering ideas will open a whole new, wonderful world of lasagna making!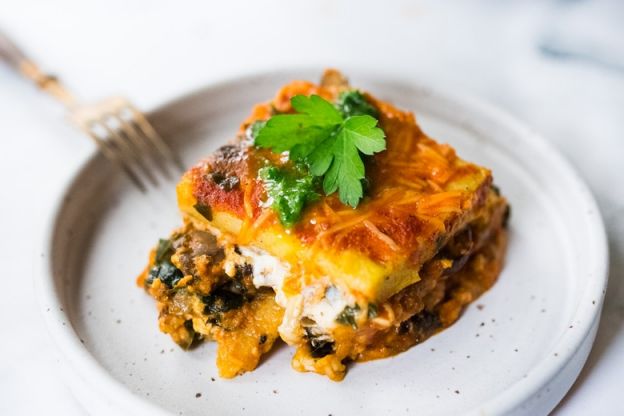 1

/15
View slideshow
© Feasting At Home
Polenta Lasagna with Smoky Red Pepper Sauce
Sliced polenta stands in for lasagna noodles in this hearty recipe that also includes a smoky red pepper sauce in place of marinara and a spinach-mushroom filling to bulk things up a bit. Drizzled with a quick and easy pesto sauce, it's an intriguing new take on the comfort food fave.
More steaming articles
Chef Tips and Tricks
VIDEO: Cheesy Eggplant Hedgehogs
These baked Cheesy Eggplant Hedgehogs are totally adorable, tasty and really easy to make!
Ingredients
3 large eggplants
1 cup olive oil
1/4 cup chopped basil
1 garlic clove, minced
Salt
Pepper
4 cup shredded cheese

Method
Mix the olive oil, chopped basil, garlic, salt and pepper in a bowl.
Carefully slice the eggplant on it's side in a cross-hatch pattern, without cutting all the way through.
Lay the eggplants inside an oven-safe baking tray.
Pour the oil mixture over the eggplants, taking care to pour between the slices.
Stuff the gaps in the eggplant with shredded cheese.
Cook in the oven at 355°F for 45 minutes, until the flesh is cooked and the cheese totally melted.
Serve and enjoy!