30 outstanding brunch recipes that will summon a crowd
Feeling stressed about feeding a crowd at your next brunch? Take a load off with these 30 fantastic recipes that will please everyone!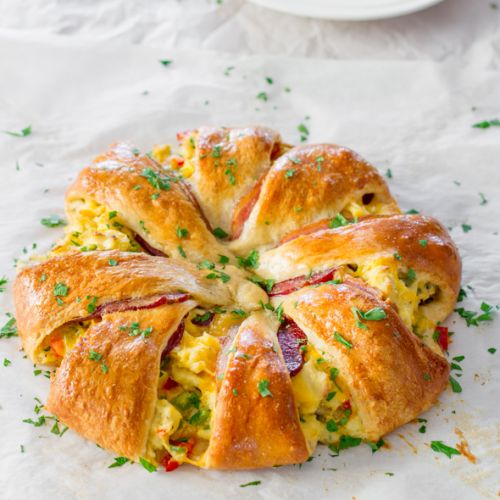 1

/30
View slideshow
© Jo Cooks
Crescent bacon breakfast ring
We'd let anyone who cooked this for us put a ring on it anytime! Perfect for a festive brunch, this gorgeous crescent ring only has 6 ingredients, thanks to the can of ready-made crescent rolls, and it bakes up in just 20 minutes. Crispy bacon slices are laid on the crescent "spokes," while the center ring is topped with cheese and scrambled eggs + chopped bell peppers. Fold the crescents back up and you've got a magazine-worthy brunch dish ready to bake!
More steaming articles
Chef Tips and Tricks
Three Cheese Baguette
You'll drool over this 3 cheese, bacon-wrapped baguette.
INGREDIENTS
Blue cheese
Cheddar cheese
Mozarella
1 baguette
Sun-dried tomatoes
Bacon
METHOD
Cut your cheeses into thin slices
Slice baguette down the middle (like a sandwich)
Layer cheddar, blue, and mozarella cheese inside the bread
Top with sun-dried tomatoes
Close baguette and wrap with bacon strips
Put in oven and bake for 20 minutes at 350 degrees
Slice and serve!