16 Crazy Milkshakes That Defy Gravity
Freakshakes are taking the world by storm so we've compiled a list of the 16 coolest places around the globe so you can get your freak on!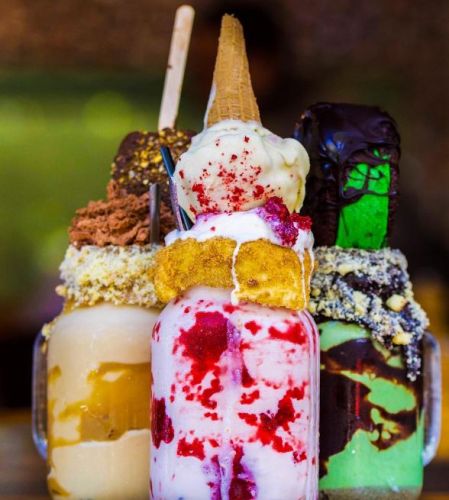 1

/16
View slideshow
© Instagram - @patissez
Pâtissez (Canberra, Australia)
This insane phenomenon, which has captivated foodies around the world is in fact the brain-child of mother-daughter duo Gina and Anna Petridis, of Pâtissez cafe in Australia. The pair opened their Freakshake cafe in 2015, offering these incredibly indulgent, eye-popping creations, such as the "Cheese the Freâk," a raspberry white chocolate cheesecake shake (up front), the "Pretzellâ on Roids," a Nutella and salted pretzel shake (left) and the "Mint Condition," a chocolate mint shake topped with a giant mint-chocolaty cookie. And the craze doesn't stop there.
More steaming articles
Chef Tips and Tricks
VIDEO: Salted Caramel Thumbprint Cookies
These salted caramel thumbprint cookies are easy to make and super delicious!
INGREDIENTS:
1/4 cup / 50g of softened butter
1 egg (divide the yolk and white)
1/4 cup / 50g of sugar
Pinch of sea salt
1 cup / 150g of flour
1 cup / 100g of chopped nuts
Salted caramel
Melted dark chocolate
METHOD:
In a bowl, mix together the butter, egg yolk, sugar, and salt.

Add the flour and mix. Roll into a ball.

Chill for 30 minutes.

Remove from refrigerator. Divide the dough and roll into 1-inch balls.

Dip each ball in egg yolk, and then roll in chopped nuts.

Place on baking sheet (lined with parchment paper), and press your thumb into the center.

Bake at 340°F/170°C for 12 minutes, or until golden.

Remove from oven and let cool.

Pour the salted caramel into the center groove,and drizzle with dark chocolate.

Enjoy!