Hosting hacks: 20 dishes you can make ahead
Keep calm when hosting, and master the art of making ahead. We've rounded up 20 dishes that taste just as amazing the next day.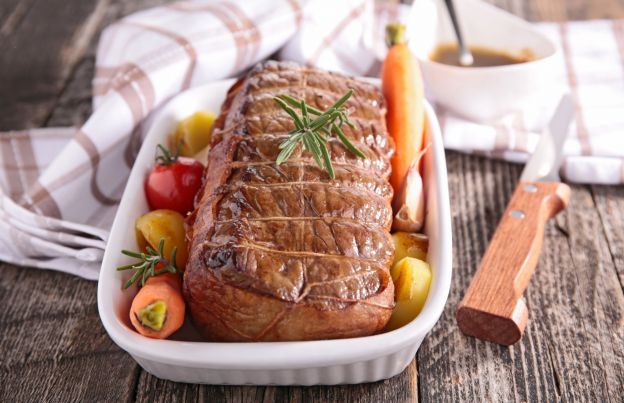 1

/20
View slideshow
Roast beef
With this crowd-pleasing roasted dish, all you have to do is reheat and carve when meal time rolls around. Easily made ahead, you simply cook the roast beef as usual, wrap in plastic wrap and store in the fridge overnight. Reserve the meat drippings, and make sure you keep the meat in the coldest part of the fridge. The next day, unwrap the roast, place on a piece of foil lined with parchment paper, top with the reserved meat drippings, then roll up and crimp the edges to seal. Place on a baking sheet, and reheat for 20 to 25 minutes in a preheated oven at 350 °F. Let rest (still wrapped up) for 5 to 10 minutes before serving with the sides of your choice.
More steaming articles
Chef Tips and Tricks
VIDEO: Chicken Quesadillas
These quick and easy chicken quesadillas are the perfect, last-minute family dinner!
INGREDIENTS:
2 chicken breasts
1/2 cup of tomato sauce
1/2 cup of chives, chopped
1 tsp. of Mexican spice mix
4 Tortillas
Cheddar
Salt, to taste
METHOD:
Put shredded chicken breast, tomato sauce, chives, and mexican spice mix in a bowl and mix together.
Lay out the tortillas. Place a slice of cheddar in the center, and cover with the chicken mix.
Fold up tortillas, and heat in a frying pan until golden.
Enjoy!