25 Light Seafood Pastas to Twirl Your Fork Around
Nothing says summer more than seafood! Here are 25 delicious seafood pastas to lighten up your summer menus without sacrificing any flavor.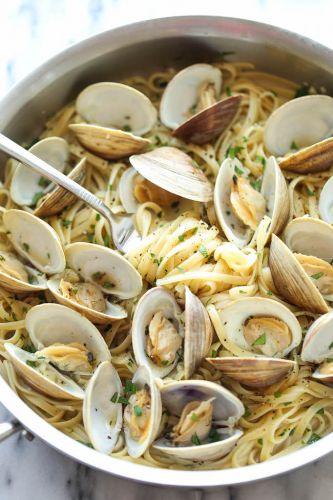 1

/25
View slideshow
© Damn Delicious
Easy Linguine with Clams
Fresh clams can be surprisingly cheap during the summer. Combine them with some pantry staples you're sure to have on hand, and you've got an inexpensive and easy weeknight dinner that will make you feel like you're on vacation. Get the recipe here.
More steaming articles
Chef Tips and Tricks
VIDEO: Rainbow Shrimp Pasta
This multi-colored Rainbow Shrimp Pasta is utterly delicious, and sure to impress when you serve it up!
Ingredients
2 oz red spaghetti
2 oz green spaghetti
2 cups shrimp
Pepper
Salt
Paprika
1/2 cup cream cheese
Method
Boil the red and green spaghetti separately in salted water until al dente.
Fry the shrimp in a pan with plenty of salt, pepper and paprika.
Add 1/2 cup of cream cheese, and stir through until combined.
Arrange the cooked spaghetti in an alternating pattern on a plate.
Top with the creamy shrimp sauce
Garnish, and serve!