10 Ways To Eat Filet Mignon Without A Fork And Knife
You can only eat filet mignon with a fork and knife, right? Wrong - these 10 delicious and original recipes call for no silverware whatsover!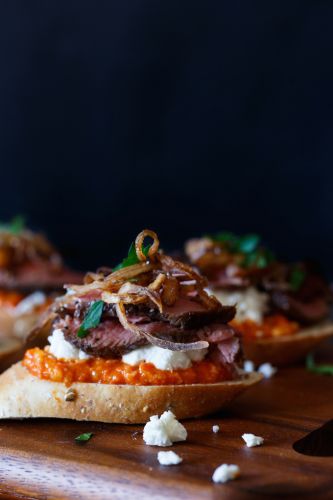 1

/10
View slideshow
© Shared Appetite
Filet Mignon Crostini with Romesco, Goats Cheese, and Crispy Shallot
For a seriously stylish, palate-pleasing appetizer, serve your filet mignon on crostini adorned with romesco, goat's cheese and crispy shallots. Check out the recipe here.
More steaming articles
Chef Tips and Tricks
VIDEO: Delicious Stuffed Cabbages
These tasty stuffed cabbage rolls are so easy!
Ingredients
1 onion
5 - 6 thick rashers bacon
1/2 lb sausage meat
1/2 cup tomato paste
2 cloves garlic, diced
2 bell peppers, diced
Salt
1 cabbage head

Method
Fry the bacon in a skillet, then add onion, and meat.
Add tomato paste, bell peppers, garlic and salt, and simmer till cooked through
Boil 1 whole cabbage head in salted water till tender
Spoon mixture into individual cabbage leaves, and fold carefully to form little rolls
Serve with any remaining mixture
Enjoy!