Steak recipes that aren't beef
Steak doesn't have to be beef! Put down the beef, get creative, and try out these fantastic alternative recipes.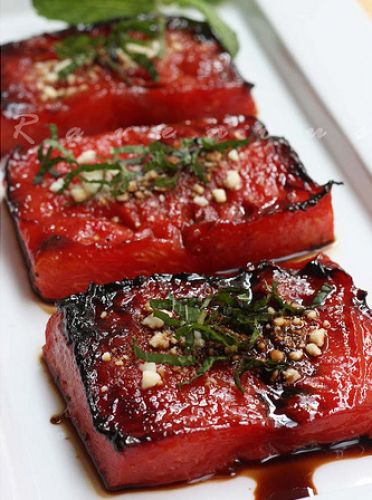 1

/20
View slideshow
© The Ravenous Couple
Watermelon Steak
Wickedly juicy and tender, these mouthwatering steaks aren't super-rare beef, but watermelon! Coated in sherry, butter, salt and pepper and roasted in the oven for 2.5 hours, then served with mint, feta cheese and a balsamic reduction they are truly irresistible. The roasting gives this normally crunchy fruit a beautiful softness, and the natural sweetness peeks out through the savory flavors. Delectable.
More steaming articles
Chef Tips and Tricks
VIDEO: Chicken Quesadillas
These quick and easy chicken quesadillas are the perfect, last-minute family dinner!
INGREDIENTS:
2 chicken breasts
1/2 cup of tomato sauce
1/2 cup of chives, chopped
1 tsp. of Mexican spice mix
4 Tortillas
Cheddar
Salt, to taste
METHOD:
Put shredded chicken breast, tomato sauce, chives, and mexican spice mix in a bowl and mix together.
Lay out the tortillas. Place a slice of cheddar in the center, and cover with the chicken mix.
Fold up tortillas, and heat in a frying pan until golden.
Enjoy!