The ultimate list of brown-bag lunches to get you through the work week
Tired of ham and cheese sandwiches for lunch? Then try these amazing brown-bag lunches that'll have you looking forward to your lunch break!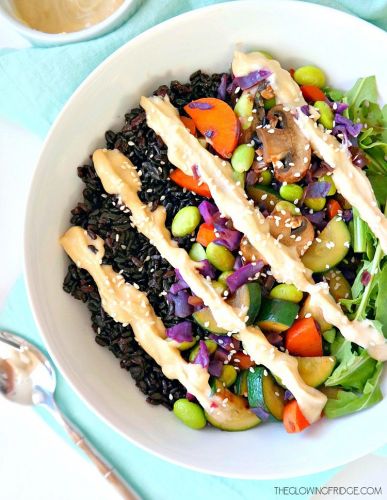 1

/25
View slideshow
© The Glowing Fridge
Forbidden rice & veggie glow bowl
Trust us, this forbidden rice and veggie 'glow bowl' is going to keep you glowing all day at work! Choc-full of delicious, healthy ingredients like black rice, purple cabbage and fresh greens, the final touch is a super yummy lemon ginger tahini sauce. The most labor intensive part is cooking the rice, and the rest only takes a few minutes to come together. This glow bowl is so complete that you don't even need to pack anything else for lunch! Enjoy!
More steaming articles
Chef Tips and Tricks
VIDEO: Salted Caramel Thumbprint Cookies
These salted caramel thumbprint cookies are easy to make and super delicious!
INGREDIENTS:
1/4 cup / 50g of softened butter
1 egg (divide the yolk and white)
1/4 cup / 50g of sugar
Pinch of sea salt
1 cup / 150g of flour
1 cup / 100g of chopped nuts
Salted caramel
Melted dark chocolate
METHOD:
In a bowl, mix together the butter, egg yolk, sugar, and salt.

Add the flour and mix. Roll into a ball.

Chill for 30 minutes.

Remove from refrigerator. Divide the dough and roll into 1-inch balls.

Dip each ball in egg yolk, and then roll in chopped nuts.

Place on baking sheet (lined with parchment paper), and press your thumb into the center.

Bake at 340°F/170°C for 12 minutes, or until golden.

Remove from oven and let cool.

Pour the salted caramel into the center groove,and drizzle with dark chocolate.

Enjoy!