The Most Delicious Reasons to Eat Bacon Every Day
Bacon is a surefire way to make pretty much anything delicious. Eat it all day, every day with these 25 mouthwatering recipes!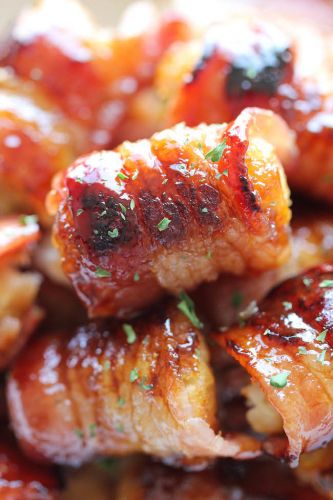 1

/25
View slideshow
© Damn Delicious
Bacon-Wrapped Tater Tot Bombs
Between the bacon, cheese, tater tots, and brown sugar, the four-item ingredient list for these tater tot bombs alone should be enough to make your mouth water! Yet collectively they come together to make an appetizer that is truly more than the sum of its parts. Be sure to make a double batch because these will disappear quickly!
More steaming articles
Chef Tips and Tricks
Three Cheese Baguette
You'll drool over this 3 cheese, bacon-wrapped baguette.
INGREDIENTS
Blue cheese
Cheddar cheese
Mozarella
1 baguette
Sun-dried tomatoes
Bacon
METHOD
Cut your cheeses into thin slices
Slice baguette down the middle (like a sandwich)
Layer cheddar, blue, and mozarella cheese inside the bread
Top with sun-dried tomatoes
Close baguette and wrap with bacon strips
Put in oven and bake for 20 minutes at 350 degrees
Slice and serve!