Simple, no-bake appetizers for last-minute entertaining
If you've invited people over but need some last-minute snack ideas with minimum fuss, these no-bake recipes are perfect!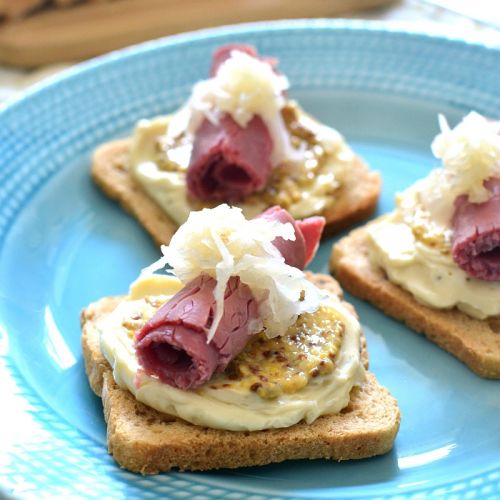 1

/15
View slideshow
© Lemon Tree Dwellling
Mini Reuben bites
These 5-ingredient bites take their inspiration from the famous Reuben sandwich. With corned beef and mustard, and a little sauerkraut to top it all off, they're a yummy and very effective way to stave off hunger pangs!
More steaming articles
Chef Tips and Tricks
Three Cheese Baguette
You'll drool over this 3 cheese, bacon-wrapped baguette.
INGREDIENTS
Blue cheese
Cheddar cheese
Mozarella
1 baguette
Sun-dried tomatoes
Bacon
METHOD
Cut your cheeses into thin slices
Slice baguette down the middle (like a sandwich)
Layer cheddar, blue, and mozarella cheese inside the bread
Top with sun-dried tomatoes
Close baguette and wrap with bacon strips
Put in oven and bake for 20 minutes at 350 degrees
Slice and serve!