One-pan steak dinners you should make tonight
If you're craving a meaty dinner, check out these one-pan steak dishes designed to inspire and show off just how versatile steak really is!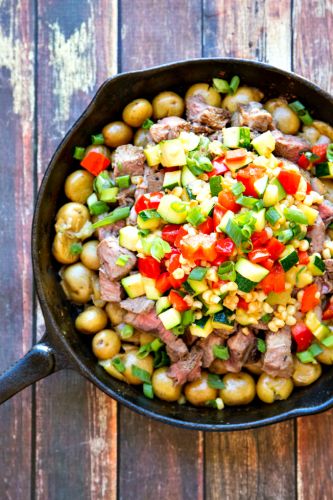 1

/18
View slideshow
© The Wicked Noodle
Steak and potato chimichurri with fresh summer vegetables
Chimichurri sauce adds a spicy South American flair to regular ol' steak and potatoes, in addition to this vibrant display of crisp, barely-sauteed veggies. Get the recipe here.
More steaming articles
Chef Tips and Tricks
VIDEO: Chicken Quesadillas
These quick and easy chicken quesadillas are the perfect, last-minute family dinner!
INGREDIENTS:
2 chicken breasts
1/2 cup of tomato sauce
1/2 cup of chives, chopped
1 tsp. of Mexican spice mix
4 Tortillas
Cheddar
Salt, to taste
METHOD:
Put shredded chicken breast, tomato sauce, chives, and mexican spice mix in a bowl and mix together.
Lay out the tortillas. Place a slice of cheddar in the center, and cover with the chicken mix.
Fold up tortillas, and heat in a frying pan until golden.
Enjoy!