20 Healthy Pizza Recipes That Don't Involve Dough
Are you looking for gluten-free, low-carb or just plain healthy recipes for pizza? Then look no further than these 20 recipes!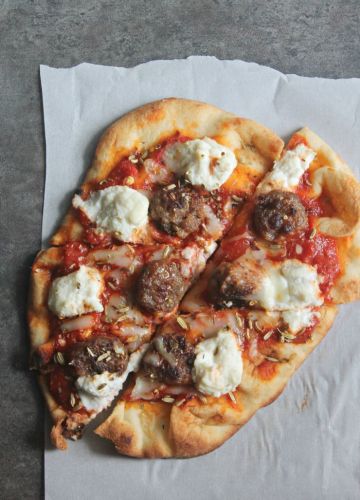 1

/20
View slideshow
© Casa De Crews
Sausage and ricotta naan pizza
This super easy pizza recipe uses ready-made naan bread as a base for a sausage and ricotta topping. And the best part is it's ready in under 20 minutes! Get the recipe for sausage and ricotta naan pizza here!
More steaming articles
Chef Tips and Tricks
VIDEO: Gluten-Free Broccoli Pizza
This Gluten-Free Broccoli Pizza is original, healthy and super tasty!
ingredients
1 head broccoli
1 egg
1 ¾ cups of your favorite shredded cheese (we recommend two types- 1 cup of one, ¾ cup of the other)
1 cup tomato sauce (or canned crushed tomatoes)
¾ cup shredded cheese
½ cup grated Parmesan
9 slices coppa ham
METHOD
Cut the broccoli and boil until soft.

Place the broccoli in a blender.

In a bowl, add an egg and ¾ cup of shredded cheese, mix until solid.

Form a ball and roll it flat on an oven tray.

Bake in the oven for 20 min at 350° F.

Once out of the oven, spread the tomato sauce evenly on the broccoli crust.

Layer 1 cup of shredded cheese.

Place a layer of Coppa ham.

Top off with of grated Parmesan cheese.

Slide it back into the oven until the cheese melts.

Serve!