Your ultimate spring produce guide: What's in season plus recipe suggestions
Buying in-season fruits and veggies saves money and helps you eat better. Here's a guide to the best spring produce and what to do with it!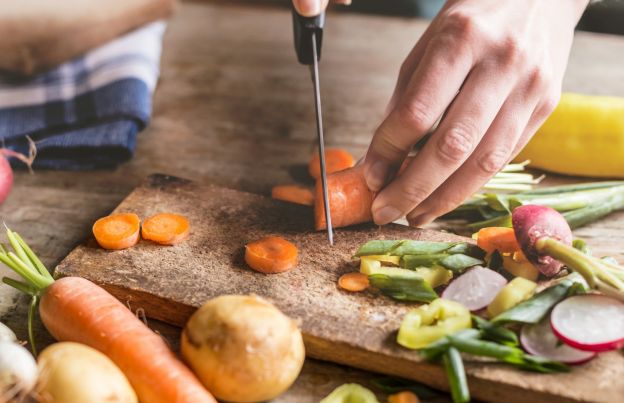 1

/11
View slideshow
Spring produce: What's hot now
Buying and eating in-season produce is not only better for your wallet but also your health. Seasonal fruits and veggies tend to be less expensive because they're more readily available locally, and supply is at its peak. Also, they're in the best condition, which should encourage you to eat a wide range of healthy, quality foods all season long. If you're ready to give seasonal eating a try this spring, here's our ultimate guide to what's in season now and how to cook with it.
More steaming articles
Chef Tips and Tricks
VIDEO: Tropical Salmon Sushi Cups
These fun Tropical Salmon Sushi Cups make the perfect warm-weather appetizer!
Ingredients
1/2 cup rice vinegar
2 tbsp sugar
2 cups cooked sushi rice
1 cup soy sauce
1/4 cup chopped cilantro
2 tbsp seasame oil
1 tsp chili paste
Salt
1 mango, diced
1 avocado, diced
1 lb salmon, diced
Method
Combine the rice vinegar and sugar.
Stir though the cooked sushi rice, and with wet hands, shape into balls.
Press the balls into ramekins lined with parchment paper, and press the rice up the sides of the ramekins into cup shapes.
Refrigerate for 15 minutes.
In the meantime, combine the soy sauce, cilantro, sesame oil, chili paste and salt in a bowl.
Combine the mango, avocado and salmon.
Pour the soy mixture over the salmon mixture, and stir through until evenly coated.
Remove the rice cups from the refrigerator, and peel off the parchment paper.
Distribute the salmon mixture between the rice cups.
Garnish, serve and enjoy!