Kickoff football season with these 15 unbeatable game-day snacks
Football season is upon us, and we've got the ultimate collection of snack recipes to make your couch the best seat in town on game days!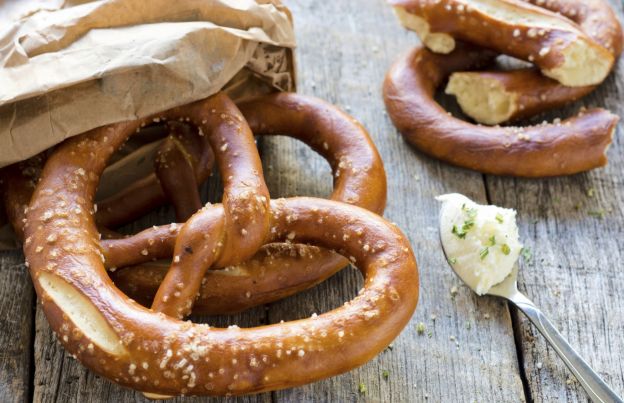 1

/15
View slideshow
Soft pretzels with chived cheese
No need to be at the stadium to enjoy this crowd fave. For 8 to 10 medium-size pretzels: dissolve one packet of active dry yeast in warm water and stir to combine. Add 1 teaspoon salt and 1 tablespoon sugar. Gradually add 3 cups of flour, 1 cup at a time and mix until the dough thickens. Add another 3/4 cup flour to remove the stickiness. Knead the dough on a floured surface and form into a ball. Cut into 8 to 10 equal-sized sections. Roll each section into a thin rope and shape into pretzels. Beat 1 egg in a medium-sized mixing bowl. Soak the pretzels in the egg and place on a greaseproof-paper lined baking sheet. Sprinkle with coarse salt. Bake for 10 minutes at 425 °F, then broil for 5 minutes more to get the tops golden brown. Cool and serve with cream cheese mixed with chives.
More steaming articles
Chef Tips and Tricks
VIDEO: Sweet Potato Toast
Did you know you can toast sweet potato slices... and it's absolutely delicious!
Method
Slice an avocado in half.
In a bowl, combine avocado with half an onion (diced) and coriander.
Add the juice from half a lemon and some salt, and mix.
Cut a sweet potato into 1/2 inch slices.
Place in a toaster, making sure to toast both sides.
Spread the avocado mix onto the toast. Enjoy!