100 Mouthwatering Ways To Cook Salmon
Healthy and flavorful, THE MIGHTY SALMON is also incredibly versatile. These 100 recipes will keep your love for salmon alive!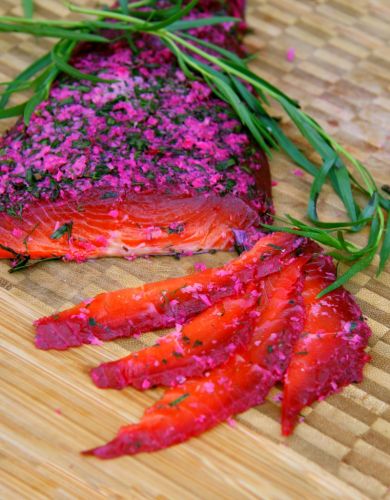 1

/100
View slideshow
© Port and Fin
Beet Cured Salmon with Dill, Tarragon and Fresh Horseradish
There are no more colors. This dish has used up all of the colors. Check out this recipe, for a truly spectacular take on traditional cured salmon.
More steaming articles
Chef Tips and Tricks
Three Cheese Baguette
You'll drool over this 3 cheese, bacon-wrapped baguette.
INGREDIENTS
Blue cheese
Cheddar cheese
Mozarella
1 baguette
Sun-dried tomatoes
Bacon
METHOD
Cut your cheeses into thin slices
Slice baguette down the middle (like a sandwich)
Layer cheddar, blue, and mozarella cheese inside the bread
Top with sun-dried tomatoes
Close baguette and wrap with bacon strips
Put in oven and bake for 20 minutes at 350 degrees
Slice and serve!