25 Dinners-For-One That Will Make You Feel Complete
Eating alone doesn't have to mean straight out of the pot over the stove. Treat yourself to one of these 25 satisfying dinners-for-one!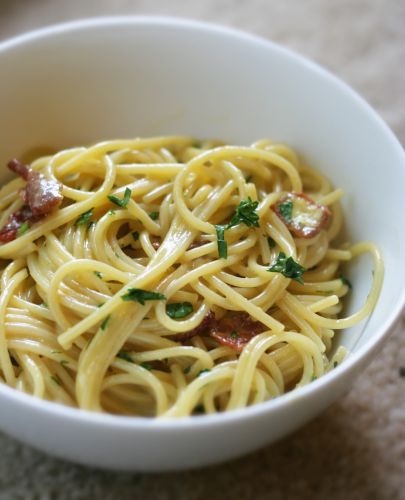 1

/25
View slideshow
© Greg's Food
Spaghetti Carbonara for One
Just because you're eating alone doesn't mean you can't make a delicious meal. Spaghetti carbonara makes a great dinner-for-one as it scales down beautifully: no need to make a giant pot of sauce and you won't be left with halves of vegetables and pieces of meat. Use this recipe as your guide to making the perfect, indulgent single serving.
More steaming articles
Chef Tips and Tricks
VIDEO: Fresh Mango Salad
Dive into summer with this fresh, light and healthy mango salad!
INGREDIENTS
Peanuts
Carrot
Mango
Rocket
2 limes
Olive oil
Soy sauce
Red onion, minced
Salt
Pepper
METHOD
Lightly sautée the peanuts until golden.
Take the carrots and cut into thin slices.
Peel the mango and slice into thin strips.
Squeeze the juice from 2 limes into a bowl, and add olive oil, soy sauce, minced onion, salt and pepper.
In a bowl, toss together the mango, carrot, rocket, and lime-soy dressing.
Enjoy!