10-minute recipes for busy cooks
Here are 10 tasty recipe ideas that come together in 10 minutes, leaving you with more time to do other things that you love or need to do!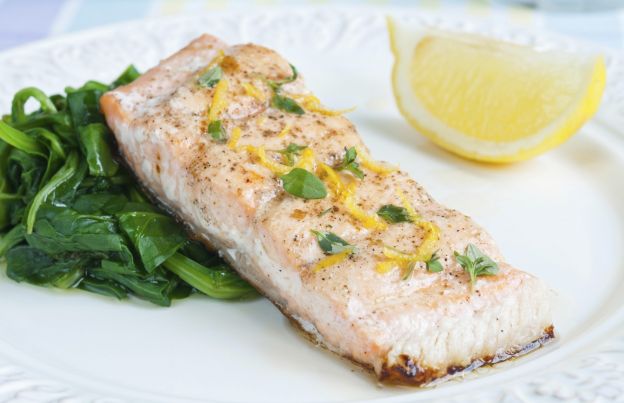 1

/10
View slideshow
Microwave salmon
Turns out you can cook fish in the microwave. Simply place your salmon fillet skin-side down in a microwave-safe dish. Season with salt and pepper. Slather with the savory sauce of your choice or top with lemon zest and sprinkle with brown sugar for a sweet touch. Cover the dish with plastic wrap (also microwave-safe) so that no air can escape, and cook for 3 1/2 minutes on high. Test for doneness by flaking the fish with a fork and making sure the center is opaque and cooked through. If not done, cook for another 30 to 45 seconds. While the fish is cooking, saute fresh spinach in a buttered skillet for about 3 minutes until wilted. Serve the fish on the bed of spinach, and garnish with a lemon wedge.
More steaming articles
Chef Tips and Tricks
VIDEO: Tropical Salmon Sushi Cups
These fun Tropical Salmon Sushi Cups make the perfect warm-weather appetizer!
Ingredients
1/2 cup rice vinegar
2 tbsp sugar
2 cups cooked sushi rice
1 cup soy sauce
1/4 cup chopped cilantro
2 tbsp seasame oil
1 tsp chili paste
Salt
1 mango, diced
1 avocado, diced
1 lb salmon, diced
Method
Combine the rice vinegar and sugar.
Stir though the cooked sushi rice, and with wet hands, shape into balls.
Press the balls into ramekins lined with parchment paper, and press the rice up the sides of the ramekins into cup shapes.
Refrigerate for 15 minutes.
In the meantime, combine the soy sauce, cilantro, sesame oil, chili paste and salt in a bowl.
Combine the mango, avocado and salmon.
Pour the soy mixture over the salmon mixture, and stir through until evenly coated.
Remove the rice cups from the refrigerator, and peel off the parchment paper.
Distribute the salmon mixture between the rice cups.
Garnish, serve and enjoy!