The Best Desserts For Summer
Google Ads
Summertime means long hot days, balmy evenings, piles of fresh produce and of course, great food. These are the best desserts to make now!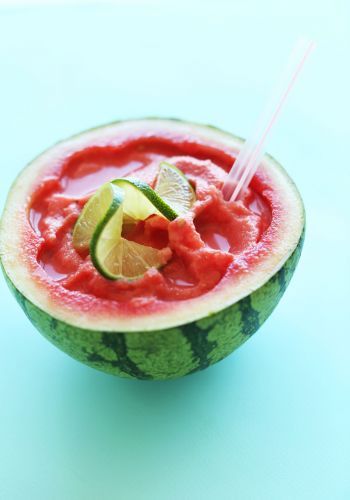 1

/30
View slideshow
© Minimalist Baker
Coconut Lime Watermelon Slushie
What fruit says summer more than a big, juicy watermelon? This gorgeous and simple recipe ticks all the boxes for a hot-weather dessert: it's refreshing, sweet and healthy. All you need to make it is a watermelon, coconut milk, a blender or food processor and a dash of lime juice. Bring on the heat!
More steaming articles
Chef Tips and Tricks
VIDEO: Chocolate Strawberry Braid
All you need is 3 main ingredients to make this Chocolate Strawberry Braid for dessert tonight!
Ingredients
7-9 medium-sized strawberries
1 puff pastry
1 chocolate bar
1 egg yolk
Almond slivers
Powdered sugar
Method
Preheat oven to 350°F.
Cut the strawberries into halves.
Dust some flour on a flat surface and spread your puff pastry out on top, smoothing it into a rectangle shape if necessary.
Place the bar of chocolate in the center, then top with a layer of strawberry halves.
Using a pizza cutter or a knife, slice the edges of the puff pastry into strips that can be wrapped over the chocolate and strawberries. Starting with the flap at the top, fold over each strip in a slightly diagonal direction so that they resemble a braid.
Brush the braid with a beaten egg yolk so that it covers the entire visible surface.
Sprinkle almond slivers on top.
Bake for 20-22 minutes.
Give the braid a few minutes to cool down, then cover with a dusting of powdered sugar.
Serve and enjoy!