25 Cold Soba Noodle Recipes Perfect For Summer
Japanese soba noodles are thin spaghetti-like noodles made with buckwheat flour. They have fewer calories than regular pasta, making them a healthy alternative for summer!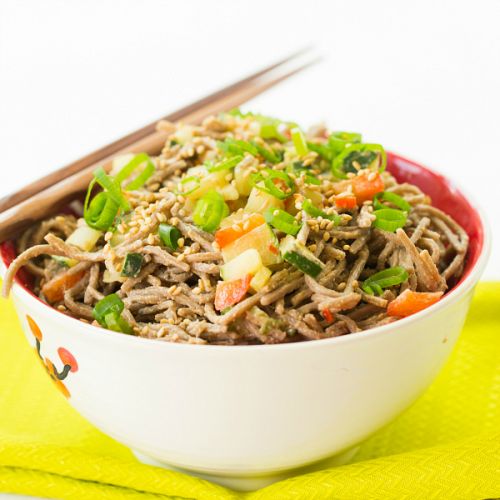 1

/25
View slideshow
© Brown Eyed Baker
Cold Soba Noodle Salad With Spicy Peanut Butter Dressing
Without requiring any extravagant ingredients, you can whip this inexpensive soba noodle salad together in under 20 minutes. The spicy, creamy peanut dressing is the perfect partner for the light noodles – find the recipe here.
More steaming articles
Chef Tips and Tricks
VIDEO: Fresh Mango Salad
Dive into summer with this fresh, light and healthy mango salad!
INGREDIENTS
Peanuts
Carrot
Mango
Rocket
2 limes
Olive oil
Soy sauce
Red onion, minced
Salt
Pepper
METHOD
Lightly sautée the peanuts until golden.
Take the carrots and cut into thin slices.
Peel the mango and slice into thin strips.
Squeeze the juice from 2 limes into a bowl, and add olive oil, soy sauce, minced onion, salt and pepper.
In a bowl, toss together the mango, carrot, rocket, and lime-soy dressing.
Enjoy!