24 Soups And Salads For Trim Spring Meals
As the chilly winter gives way to longer, lighter spring days, your go-to recipe collection undergoes a transformation too.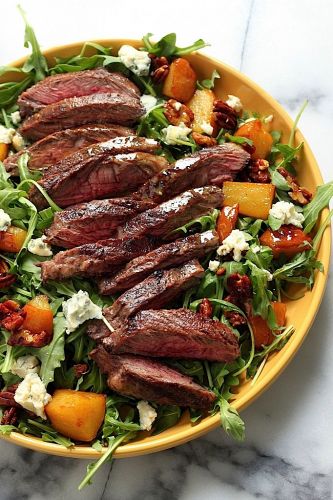 1

/24
View slideshow
© Baker by Nature
Arugula skirt steak salad with caramelized pears, pecans and gorgonzola
Seared skirt steak, sweet caramelized pears, crunchy pecans, bitter arugula and creamy gorgonzola come together perfectly in this drool-worthy, hunger-busting steak salad.
More steaming articles
Chef Tips and Tricks
VIDEO: Fresh Mango Salad
Dive into summer with this fresh, light and healthy mango salad!
INGREDIENTS
Peanuts
Carrot
Mango
Rocket
2 limes
Olive oil
Soy sauce
Red onion, minced
Salt
Pepper
METHOD
Lightly sautée the peanuts until golden.
Take the carrots and cut into thin slices.
Peel the mango and slice into thin strips.
Squeeze the juice from 2 limes into a bowl, and add olive oil, soy sauce, minced onion, salt and pepper.
In a bowl, toss together the mango, carrot, rocket, and lime-soy dressing.
Enjoy!