30 Light and Healthy Salads To Help You Recover From The Holiday Binge
All that Christmas feasting has put your stomach through a lot. Give your belly a holiday, with these light and delicious salads!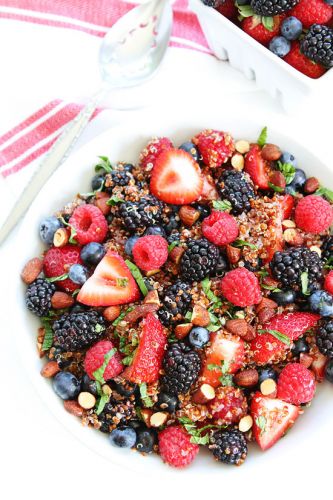 1

/30
View slideshow
© Two Peas and Their Pod
Berry Quinoa Salad
Suffering a post-holiday sugar crash? This nutritious salad will satisfy your sweet craving, and packs in plenty of protein and fiber to fill you right up. Recipe here.
More steaming articles
Chef Tips and Tricks
VIDEO: Fresh Mango Salad
Dive into summer with this fresh, light and healthy mango salad!
INGREDIENTS
Peanuts
Carrot
Mango
Rocket
2 limes
Olive oil
Soy sauce
Red onion, minced
Salt
Pepper
METHOD
Lightly sautée the peanuts until golden.
Take the carrots and cut into thin slices.
Peel the mango and slice into thin strips.
Squeeze the juice from 2 limes into a bowl, and add olive oil, soy sauce, minced onion, salt and pepper.
In a bowl, toss together the mango, carrot, rocket, and lime-soy dressing.
Enjoy!