Cookie Dough: Just Another Passing Craze?
Raw cookie dough is the food scene's next big thing. But will it make you ditch the oven for good?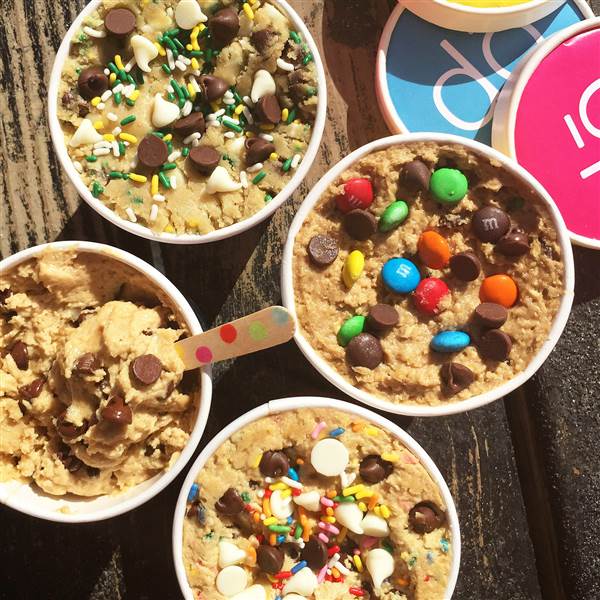 Courtesy of DO Cookie Confections / NYC
When you were a kid, you might have loved baking for the sole reason of eating the leftover dough straight from the bowl. Good news for you: the raw cookie dough trend is sweeping the nation by storm. And it's giving ice cream, frozen yogurt, and even regular cookies a run for their money.
New Yorkers are always on top of their food fads. From the Cronut to the Chocolate Chip Cookie Shot, Raw Cookie Dough stakes its claim as the new kid on the block. At DO Cookie Confections, people stand in line for raw cookie dough for hours (myself included). Don't be afraid that it's raw: their dough is egg-free, and thus safe to eat!
Is raw cookie dough just a passing fad, or is it here to stay?
Courtesy of DO Cookie Confections / NYC
The verdict is YES. With dozens of flavors and toppings to choose from, this fad will endure, and it's definitely worth the wait. Raw cookie dough's certainly not going away anytime soon! Cookie dough chains have started to pop up as far as Toronto and London.
And is it really better than all those other sweets? For one thing, cookie dough is much, MUCH denser than ice cream. That means that a scoop of cookie dough will bring you more bang for your buck in the long run. If you're like me and you're unable to finish yours, you can always stick the dough in the fridge for the next day.
So give it a try and see for yourself if it's worth the hype. You might never go back to baking cookies ever again!
Hungry? Check out our recipes for Egg-Free Edible Cookie Dough and Irresistable Raw Peanut Butter Dough.