15 Glorious Ways To Bulk Up Mashed Potatoes
Plain mashed potatoes are so yesterday. Here are 15 yummy twists on the classic recipe that will turn it into an unforgettable side dish!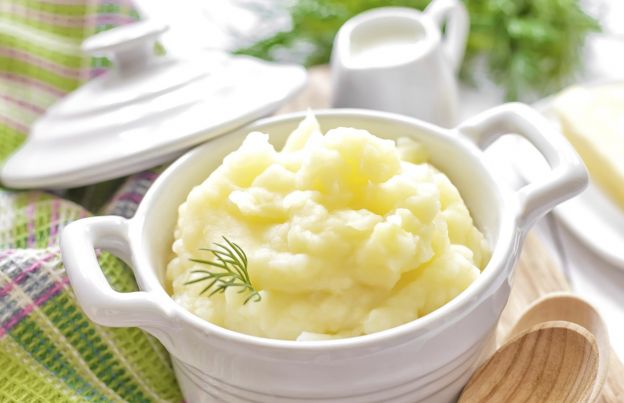 1

/16
View slideshow
It's time to add some mass to your mashed potatoes
Mashed potatoes are one of the best comfort foods out there. They're the perfect side to a juicy steak or other savory meat dish, and they're especially easy to make. The original recipe calls for boiling a batch of peeled Yukon gold potatoes until fork-tender (about 15 to 20 minutes), then mashing them with cream, butter and milk until smooth. A dash of salt and pepper, and you're done! But what about using that steaming bed of starchy goodness as a blank canvas for bigger and better creations? Here are 15 glorious ways to boost your mashed potato game from solid to sensational.
More steaming articles
Chef Tips and Tricks
VIDEO: Salted Caramel Thumbprint Cookies
These salted caramel thumbprint cookies are easy to make and super delicious!
INGREDIENTS:
1/4 cup / 50g of softened butter
1 egg (divide the yolk and white)
1/4 cup / 50g of sugar
Pinch of sea salt
1 cup / 150g of flour
1 cup / 100g of chopped nuts
Salted caramel
Melted dark chocolate
METHOD:
In a bowl, mix together the butter, egg yolk, sugar, and salt.

Add the flour and mix. Roll into a ball.

Chill for 30 minutes.

Remove from refrigerator. Divide the dough and roll into 1-inch balls.

Dip each ball in egg yolk, and then roll in chopped nuts.

Place on baking sheet (lined with parchment paper), and press your thumb into the center.

Bake at 340°F/170°C for 12 minutes, or until golden.

Remove from oven and let cool.

Pour the salted caramel into the center groove,and drizzle with dark chocolate.

Enjoy!