Thai up your taste buds with these 18 titillating recipes
Love the sound of chicken satay with peanut sauce, Thai crab cakes and sesame pork dumplings? You've come to the right place: Thailand.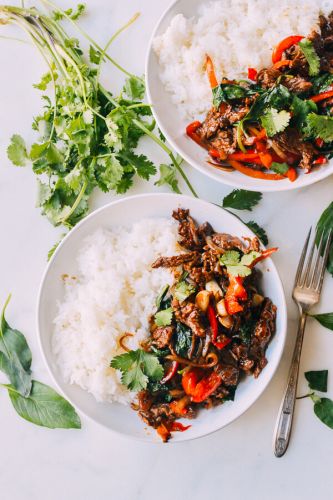 1

/18
View slideshow
© The Woks of Life
Thai basil beef (Pad gra prow)
Get those woks sizzling with a batch of this flavorful Thai basil beef. The original calls for holy basil, but you can use Thai basil or even Italian basil for this recipe.
More steaming articles
Chef Tips and Tricks
VIDEO: Fresh Mango Salad
Dive into summer with this fresh, light and healthy mango salad!
INGREDIENTS
Peanuts
Carrot
Mango
Rocket
2 limes
Olive oil
Soy sauce
Red onion, minced
Salt
Pepper
METHOD
Lightly sautée the peanuts until golden.
Take the carrots and cut into thin slices.
Peel the mango and slice into thin strips.
Squeeze the juice from 2 limes into a bowl, and add olive oil, soy sauce, minced onion, salt and pepper.
In a bowl, toss together the mango, carrot, rocket, and lime-soy dressing.
Enjoy!